Pyaar Ka Punchnama 2 review: Ultimate Comedy Super Time Pass
Luv Ranjan's sequel to hit 2011 hit Pyaar Ka Punchnama hit the theatres on Friday. While the first film was panned by critics as misogynist, the story of three boys just out of college making a fool of themselves in love was an instant hit and Rajjo's (Kartik Aaryan) monologue towards the end remains one of the oft-quoted dialogues by men when they want to 'bitch' about women.
So what is the sequel all about? Is it as hilarious? Does it also come out as anti-women? Well, our answer to all is yes.
Much like the first film, Pyaar Ka Punchnama 2 traces the love life of three men who are foolish enough to fall prey to three women (who may not be manipulative or scheming per se, but simply take advantage of them) and their whims and fancies. But the sequel is even more hilarious than the previous one – so much so that you are most likely to ignore the 'anti-women' part of it all together.
The story as well as the plot twists are almost similar to those of the first film. Instead of making a sequel, they could have simply shown the same three boys and their foolishness four years ahead in life instead of giving them new names, making them into new characters. Once again, the three men who are well-settled in their jobs fall in love with three seemingly different kinds of women only to be ditched by them in various ways. It is, however, a tightly-knit story with the perfect dialogues for a comedy film that leaves the audience in splits.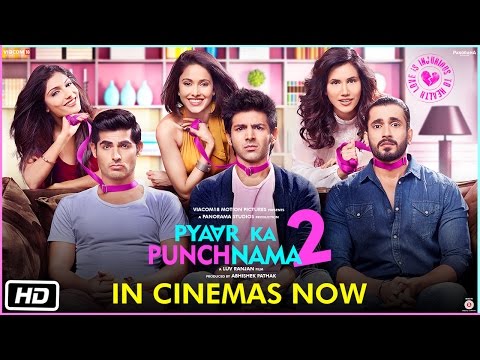 Share with your friends to unlock the video
From stereotyping engineers as boring to girls as stupid and dumb, all the jokes in the movie might be a little offensive to some but they certainly are relatable. In one of the sequences, Kartik has a tough time driving his girlfriend and her friends from a beauty parlour. Why the tough time? Because judging whose nails look better and posing for selfies with everyone in the four-seater car are only a few of the things he needs to juggle as he drives on a busy Delhi road! This was one of the rare scenes where joke seemed a little too much of an exaggeration. But most of the follies shown in women can be seen in real life too: Not every woman 'uses' her boyfriend for his money or as a domestic help for parents, but there certainly are such women as much as there are such men in real life.
For those waiting for the epic monologue by Rajjo (Kartik who is now called Gogo), there is a longer, more real and funnier version of that in Pyaar Ka Punchnama. We will just give you a teaser of the monologue, you should watch it for yourself: "Bribe is an institution started by women because what they give in bribe never ends! But why do we bear them for its sake? Isse to accha apne haath se shadi kar lo!"
All the actors fit perfectly into their characters: The boys effortlessly depict what men often discuss during boys' talk and the girls play dumb as and when the character demands.
Made on a small budget of about Rs 9 crore, the film might well be a hit and it won't be surprising at all. Our verdict? Go for the film, have some fun and have a happy weekend.
Pyaar Ka Punchnama 2
Director: Luv Ranjan
Cast: Omkar Kapoor, Sunny Nijjar, Kartik Aaryan, Nushrat Bharucha, Sonalli Sehgal and Ishita Sharma
Rating: 3/5
1755 Total Views
3 Views Today